H
A
P
P
Y
H
A
L
L
O
W
E
E
N
!
!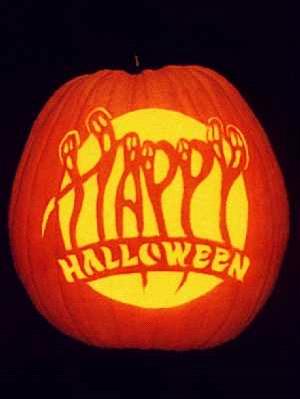 Urban Word of the Day

www.urbandictionary.com
October 31, 2007: Hallowthanksmas

http://www.urbandictionary.com/define.php?term=Hallowthanksmas&defid=1033500

The period of time starting in late October and ending on New Year's Eve, so named for the commercial tendency to put up Christmas displays before Halloween. See also [Christmahanukwanzakah]
Once October comes, we have to celebrate hallowthanksmas for 3 months!
"Pro Tip: Capturing Jack-o-Lanterns


Halloween is fast approaching—are you (and your camera) ready? While you're out trick-or-treating with the kids, why not take photos of your favorite jack-o-lanterns along the way? Follow these tips to ensure that your photos turn out wicked…in a good way!
Tips for Capturing Jack-o-Lanterns
1. Lighting on the Inside
While you're carving your pumpkin, make sure the holes in the design are large enough to emit a good amount of light. Once you have your jack-o-lantern, light it from inside with a bright light source: Try a flashlight or a battery-operated light—instead of the traditional candle—for best results. Be sure to position the light so that it doesn't shine directly out of the holes and into the camera lens.
2. Lighting on the Outside
Turn off your camera's flash, and set your ISO to 400. Then, allow your camera's meter to recognize that the jack-o-lantern's glowing expression is the brightest highlight of the scene. If you desire to show more details of the jack-o-lantern itself, light some candles near the outside of it, turn on a lamp, ask a friend to shine a flashlight at it or turn on the porch light. My favorite time to photograph a jack-o-lantern is at dusk, when you can take advantage of the natural light.
3. No More Blurry Photos
To avoid blurry photos, use the cable release or the timer to trip the shutter. You can also try a tripod to keep the camera very still. Also, you don't want to get too close to the jack-o-lantern as your camera may have difficulty focusing on a subject that's less than two feet away. Instead, try standing about four feet away and zooming in to fill the frame.
4. Spooky Effects
For an added special effect, photograph your jack-o-lanterns on a shiny surface in a dark room—they'll look extra spooky!

Happy Halloween!"
http://blog.webshots.com/?p=757&tag=nl.e201